May 25, 2022 / Bryan Crain, Senior Marketing Specialist
During the first quarter of 2022, EPC's Administration and Accounting Departments were merged into one with the new department now being called Finance. I recently sat down with Rhonda Schmitz, our Chief Financial Officer, to learn more about the reorganization and her history with EPC.
1. Who's Rhonda Schmitz? Tell us a little bit about yourself and how long have you been with EPC.
Oh wow! I've been with EPC or CSI "our parent company" in some capacity for 24 years now. First, I started with CSI in 1998 as a temp, filling in for an employee on leave for three months. During that time, CSI purchased EPC, and when my initial temporary assignment was over, I was sent to EPC to do a quick audit of their accounting records. At the time, EPC outsourced their financial reporting. When the audit was over, I was asked to become a permanent employee and the rest is history! Before I joined the EPC/CSI family, I spent 12 years in internal audit at Mark Twain Bancshares, which is now US Bank.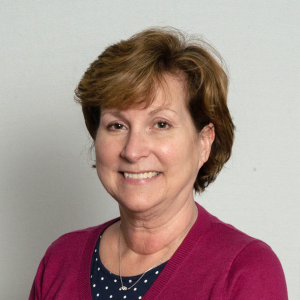 2. What has it been like to watch EPC's continued growth over the years?
EPC's growth has been nothing short of phenomenal. It has been fun to watch us grow from basically a mom-and-pop company to a fully contributing subsidiary of CSI. In the last 20 years, our total revenue has grown more than tenfold. I know our industry is rapidly changing and expanding so I am excited to see what new opportunities we can identify to continue this level of growth in the years to come.
3. Tell us about the recent departmental reorganization. What was the motivation to making the change?
Really, our goal was simple. We wanted to rename our group with a title that more closely aligned itself with the duties and responsibilities we manage on a day-to-day level.
4. How big is your department and is it still growing?
Currently, we have 13 people in the Finance Department covering a wide variety of tasks ranging from accounting, purchasing for both internal use and resale, sales tax management and reporting, credit card management, customer invoicing, payables, receivables, inventory, and other various tasks. As EPC continues to grow, I anticipate our team will need to add personnel to keep pace.
5. From a financial perspective, what changes have you seen in your side of the business over the years?
The finance industry has seen tremendous change over the years due to modern advancements in technology, especially centering around software-as-a-service (SaaS). We're constantly having to adapt our policies and procedures to match not only our customers' requirements, but also or own internal needs. Our end goal has always been the same and that is to organize our data as quickly and efficiently as possible and provide quick access for our customers and EPC. As technology advances, we continue to adapt our policies and procedures to the current environment.
6. What affect will this new departmental organization have on EPC's operations? 
Our hope is that with reorganizing our department into one and sufficiently cross-training our team across multiple positions, we will be able to assist our internal employees as well as our customers in an efficient and effective manner.
7. Do you have any new goals or objectives for your department over the next year?
Personal development and future growth for my team is one of my biggest goals. I'm really focused on continuing our cross-training efforts and expanding their responsibilities to help them achieve their career and personal development goals. I want to continue down this path in the future.
8. How do you see CSI playing a role in EPC's continued growth moving forward?
EPC has always benefitted from CSI's guidance and financial support which has allowed us to grow and explore new and exciting opportunities and ventures. As we take our next steps in this rapidly changing industry, I only see our two companies creating greater synergy across our teams. I think those efforts will yield a positive result for both operations.
9. Lastly, what is one thing you would want everyone to know about yourself and your team?
The Finance Department's dedicated members have a variety of experience in day-to-day activities and they are crucial to EPC's overall success. We recently sent a list of our employees and their areas of responsibility to all EPC employees to encourage everyone to contact us with their needs. Our door is always open!