April 19, 2022 / Bryan Crain, Senior Marketing Specialist
With Earth Day fast approaching, several members of EPC recently volunteered to help keep its hometown of St. Charles, MO clean by joining city staff and other volunteers for Mission: Clean Stream 2022.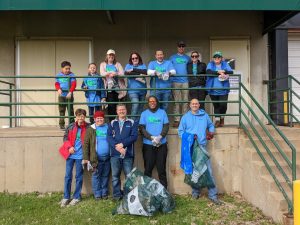 The event was held by the City of St. Charles in conjunction with a county wide stream clean effort and sponsored by Greenway Network Inc, Missouri Department of Conversation, and Missouri Clean Stream. Over the past 20 years, thousands of Clean Stream volunteers have helped to pick up an average of 10 tons of trash each year. EPC would like to extend a big thank you to all of our volunteers and we are already looking forward to taking part in 2023! If you would like to learn more about Mission Clean Stream, please visit Mission: Clean Stream – Greenway Network.