March 14, 2022 / Bryan Crain, Senior Marketing Specialist
Last November, EPC announced several executive transitions and promotions, including Pat Laughlin being named President and CEO. I recently sat down with him to learn more about his background and his vision for the company.
So, who is Pat Laughlin? Tell us a little bit about yourself.
I was born and raised in Kansas City, Missouri. I attended the University of Missouri – Columbia (Go Tigers!) where I graduated with a bachelor's degree in English. Post college, I moved to St. Louis and started my career and family that includes my wife and three amazing daughters. In my free, time I enjoy coaching sports and was fortunate enough to be able to coach all three of my . When I'm not coaching, I love spending time outdoors, either playing golf or pickleball, or just relaxing by the pool with my family and friends.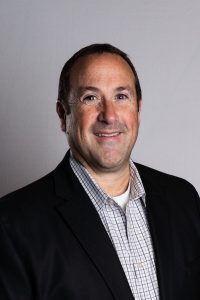 How long have you been with EPC?
I actually started working at CSI in the spring of 1994 in the product sales group, handling off-lease PC and printer sales. In 1998, I had an opportunity to move to Seattle to help oversee CSI's recent acquisition of a remarketing business called Evergreen Technology. Then in 2003, I jumped at the chance to move back to St. Louis where I began my career at EPC, helping manage the wholesale department, which eventually led me to where I am today. It's been a wonderful journey and one I'm very proud of.
What do you think is EPC's biggest selling point to customers?
There are several aspects of EPC's business that set us apart from our competition. The biggest differentiators are our staff, our flexibility and our footprint. We have a very well-trained group when it comes to all aspects of our business. Regardless of department, on-site or off-site services, or level of customization, our staff is highly-experienced and continues to be our biggest asset. Finally, having nine facilities in the U.S. and a growing international footprint is a huge selling point for our global customers and prospects. Aligning our global capabilities with CSI's only enhances our service offerings.
Where do you see the ITAD industry heading?
Over the last few years we have seen several huge shifts in the ITAD industry due to COVID and the work-from-home model. This trend will only continue to grow as companies adopt a hybrid WFH model. In order to remain a leader in the industry, EPC must help companies overcome these technological challenges by providing necessary assets. We have also introduced our custom Box Program to assist customers and their employees return their off-lease assets while working from home. I believe that customers will continue to put an emphasis on sustainability and green initiatives, growing the ITAD industry drastically in the next 5-10 years. Our ITAD services help enhance the circular economy through prolonging the life of the asset within the secondary market and with responsible recycling of raw materials to help reduce the need for additional mining. ITAD is crucial for companies looking to reach their sustainability goals and taking their green efforts to the next level.
How do you see CSI playing a role in EPC's continued growth moving forward?
We have such a tremendous relationship with CSI and they have been instrumental in the growth of EPC internationally. We project this will continue over the next several years. The more EPC locations we open globally will not only help our business, but will also benefit CSI's leasing opportunities. CSI and EPC will work hand-in-hand to continue to grow the companies and service offerings.
And lastly, what is the one thing you would want everyone to know about EPC?
In addition to all the differentiators mentioned above, especially the fact that I believe our team is the best in the industry, I'd like to let everyone know we are hiring at all of our facilities! The ITAD industry is booming and we need more hands-on-deck to keep up with demand and to continue to provide a premium level of service to our customers.